Four Percent
They told her she had less than a four percent chance of seeing the anniversary of her illness. Dana's been careful. Eating right. Exercising. Everything they said to do. And it paid off… she beat their chances.
Now, one year later, Dana needs a way to celebrate living. Her friend Jimmy and his friend Collin know just what to do. After a night in their arms, she won't look back.
Buy it Now | Reviews | Read Excerpt | View Trailer | Print Goodies
Reviews for Four Percent :
"I loved this book and it was an excellent read!" Judie S., Reader
"Four Percent is erotica with romantic elements. This short read is a Hot fantasy filled with delicious sex. If you are looking for a quick fix, pick this up. You won't be disappointed. It rates 4.5 Hot Flashes!" – Judy, Erotic Book Freaks
"…it is full of plenty of sexually exciting scenes, enviable friendships, hope and even the possibility of a 'happily-ever-after.'" 4.5 Blue Ribbons, Chrissy, Romance Junkies
"Morgan Sierra's story is absolute perfection.  While it is short and sweet, it is also hot and sultry.  This is the perfect story for when you need as fix but do not have a lot of time to read.  The emotion that flows from this story is touching and intense.  This is definitely a must purchase story." 4 Stars, Kimberly Spinney , Sensual.Ecataromance
"Four Percent was long on hot sex!  The two men are different types, but the sweet and erotic way they treat Dana is just what she needs.  The first few interludes are all just primer for the final act of double-penetration, making for a satisfying ending for Dana and the reader." Niki Lee, Joyfully Reviewed
Dana grasped each man's shoulder and tightened her grip as they worked her body. Her hips moved of their own accord in a desperate attempt to help them continue her pleasure. She cried out with each of Jimmy's thrusts and each touch Collin provided, the noise echoing off the bathroom tiles.
Collin's hand left her breast and raked into her hair, cupping her head. When he pressed his lips to hers, Dana opened her mouth and greedily took in his tongue. She sucked on it feverishly, her teeth scraping him.
One of their fingers slid across her anus and pressed in. She tried to pull away, but Collin growled into her mouth and Jimmy whispered soothing words into her ear. The finger pressed further, sinking into her ass. The sensation was unlike anything she had ever experienced.
Dana cried out against Collin's mouth, and he captured the noise as he devoured her with his lips. The fingers in her pussy and her ass moved against each other in rhythm. Each frenzied motion pushed her to the point of ultimate bliss.
Dana was helpless against the unending onslaught of pleasure. This was what she'd wanted. What she'd asked them to do for her. Her body went taut with a desperate craving for release.
A feeling of elation washed over her.
She rocked her hips, helping bring herself closer to the edge. Bursts of starlight exploded behind her eyelids. Her muffled cries became harder, faster.
Jimmy covered her breast with nips of exquisite torture as his fingers explored her expertly, while Collin probed her mouth with his tongue. His hand did not spare her sensitive clit.
Finally, in one glorious culmination of sensation, Dana exploded underneath them. Her muscles locked in place as her pussy grasped and pulled. Her breath caught in her chest and she went mute, a scream locked in her throat.
The men continued to rub, pull, and fuck her. They whispered words of encouragement as she came.
She rocked convulsively, until the tremors slowly dissipated. At last, when Dana was drained, her head fell forward. She gasped several times, leaning against Collin for support.
***
Available now from Cobblestone Press
Extras!
Bookmark
(Right-click and save to your computer)
Computer Desktop Wallpaper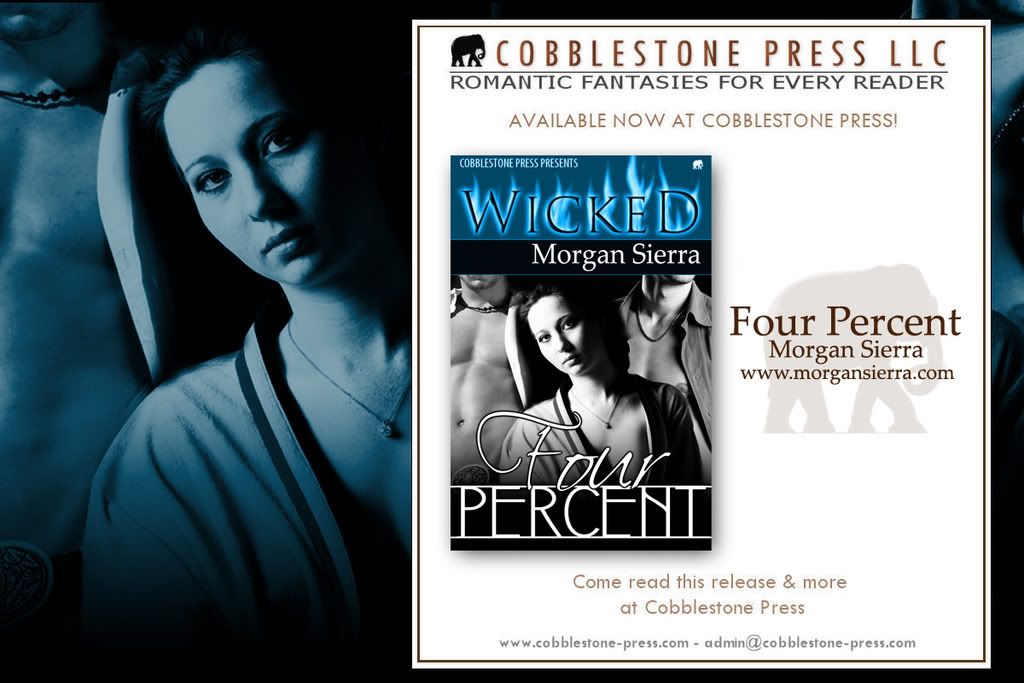 (Right-click and save to your computer)