Easter Hoppin Blog Hop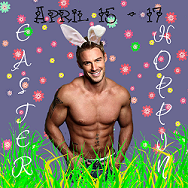 As cute as the little guy with the ears is up there, I have something I like even better.

I mean look at him! Those are great Easter colors! *cough* I did mention this blog is for 18+, right?
Anyhoo, thanks for stopping by. To win any title from my backlist, simply post a comment here between April 15th and April 17th. The winner will be posted in the comments and on Twitter on April 18th.