Last chances and apologies…
Last chance #1…
Don't forget to head over to this web site and vote for SOLDIER as Cover of the Month. You have until tomorrow to get your votes in.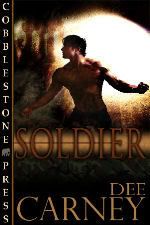 Dan Skinner did a great job and deserves some recognition!
Last chance #2
To celebrate the release month of CAREER OPPORTUNITIES , everyone who is a subscriber to my newsletter will be entered into a drawing to win a copy. You have until tomorrow to sign up!
Winner will be announced September 1st on the blog and in the September newsletter.
I'm sorry…
In trying to manage the spam I've been getting lately on the blog (can anyone really explain to me the point of spam? I mean, honestly…does anyone click on that shit any more?), I've accidentally deleted a large number of comments from blog readers. To make amends, here's a couple of abs that should distract you from thinking about it too much. 😀
Both images courtesy of The Erotic Woman