Wednesday's Words: Romance Authors Who Cook~
RomanceCooks.com. Have you heard of it yet? No? Well let me tell you a little about my brain child because it's a week away from launching.
Quite frequently on Twitter, people will mention some great new recipe they've tried or post pictures of something they've just cooked or baked. The result is a number of followers asking for a recipe. Those with a web site will post it on their blog, and others will simply post the recipe to Twitter.
It struck me that what better way to promo ourselves, our recipes and our books than to combine them all in one place? So in a stroke of mania (yeah, I do have those bouts. Don't judge me. lol), I grabbed a Blogspot address, a domain name, a Twitter account, a Facebook page and an email address… all belonging to RomanceCooks.com. The next day I rigged an icon for it too. I sent out a call for participants and in under 24-hours, every slot was taken.
So, starting February 1st, you can go to RomanceCooks.com (add it to your blog reader!) and check out a new author with one of their favorite recipes. Some authors have linked the recipe to a book, even.
I'm not sure if this will be as well received on the reader-side as it has been on the author-side, but I absolutely love the idea and stand behind it 100%. Hopefully, with enough interest I'll be able to most posts from one a week to two a week. (Any more than that I think is overkill, but that's just me.)
Join me on 2.1.2012 for the launch, will you?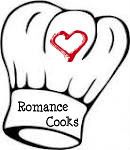 All the Best,