Wednesdays Words: RomanceCooks.com is Live!
Most romance authors I know also love to cook. (Or at the very least, either the hero or heroine of their books likes to cook and/or eat!) So, what better way than to combine two great past times–romance books and cooking–than by putting them together in one place? Please come visit me this week at www.RomanceCooks.com for its debut. My warm caramelized onion dip recipe is posted, just in time for Super Bowl.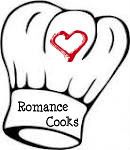 Your favorite romance authors. Their favorite recipes.